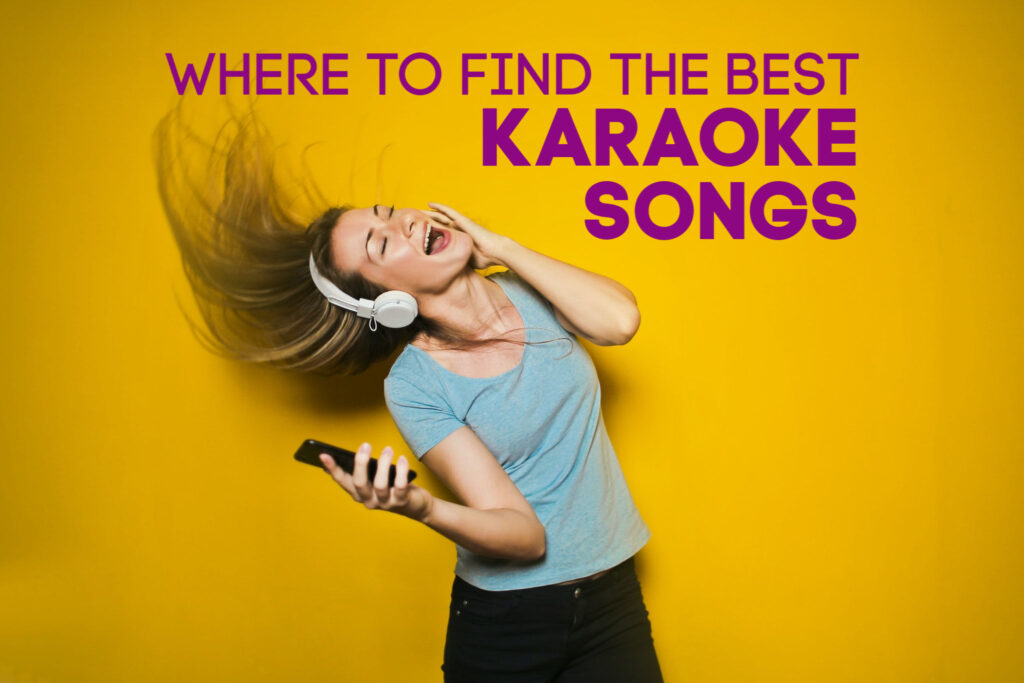 Some of the links on this site are Affiliate Links and if you use them to make a purchase, we may earn a small commission. For more information, read our Disclosure Policy.

Finding karaoke songs is an essential key in using a home karaoke system. Whether you are wondering where you can find fun karaoke songs to sing by yourself or if you are trying to compile a master karaoke song list for a party, there are an abundance of options. We are sharing our top tips for how to find the best karaoke songs with lyrics – and the pros and cons of each method.
Best Karaoke Songs
Just as there are many ways to use your Karaoke Machine, there are numerous places to find great karaoke songs – and even free karaoke songs. However, there are a few things to consider about each method. We highlight how to find karaoke free songs with lyrics, but also detail why it might make sense to buy karaoke songs as well.
Pro Tip: The type of karaoke system you are using will partially determine the best way to get karaoke songs. For example, karaoke CDs only work in players designed to output the lyrics display.
YouTube Video Karaoke Songs
YouTube is one of the top resources for finding karaoke music with lyrics for free. Some of the best Karaoke Machines for Adults are designed to utilize handheld devices for songs and lyrics, which is why using YouTube com karaoke songs are so popular.
If you want to find karaoke songs for free, YouTube is likely the best bet…but it comes with both pros and cons.
Pros of Using YouTube for Free Karaoke Tracks
The top benefit of using YouTube for how to find karaoke songs is that it is free instead of having to spend money on buying karaoke songs. There are thousands of karaoke songs online with lyrics in the YouTube database that are absolutely free and legal to use.
Also on the upside, YouTube has a huge database of some of the most requested karaoke songs – from modern hits to classics. If you are wondering where to find karaoke songs online, YouTube will likely have some version of the songs you want.
Cons of Using YouTube Karaoke Songs Free
There are some downsides to using YouTube online karaoke free with lyrics – to the point that it might make sense to buy karaoke music instead.
First, the karaoke tracks with lyrics are produced by both companies and individuals. Some are good, some are not so good – and, because of that, you may have to do a karaoke song search and listen to a few tracks before finding the version you like best.
Another thing about YouTube karaoke songs online is that they almost all have advertisements. While getting free karaoke songs with lyrics is great, ads are not. Having to wait for an ad to play before you can listen to the free online karaoke with lyrics is not ideal for music at a karaoke party. On the other hand, getting free karaoke online with lyrics – even with ads! – is probably alright when you are just singing alone or with a few friends.
Pro Tip: Having a party? Read our tips for throwing the best Karaoke Parties!
How To Get Karaoke Songs with Lyrics from YouTube to Your Device
In order to play the karaoke song and lyrics from YouTube, you will need a solid internet connection so that you can stream the song. While this may not be an issue at home (where you likely have WiFi), it could be a hindrance when using mobile data with a portable machine.
How To Find The Best Karaoke Songs on YouTube
How to get karaoke songs on YouTube is easy. For example, if you want to Abba's Dancing Queen, you simply go to YouTube and type "Dancing Queen karaoke song with lyrics" into the search bar. The top results for Dancing Queen karaoke lyrics songs will be listed in order of most popular.
Pro Tip: Now that you know how to get awesome karaoke songs on YouTube, you may be wondering how to get a free download of karaoke songs. We address how to download karaoke songs from YouTube – and the pros and cons of doing so – at the end of the post!
More Karaoke Song with Lyrics Websites
While YouTube is a great place for where to get karaoke songs online, it does have its disadvantages. Singers looking for an alternative place to find karaoke and lyric songs can go to popular karaoke websites, like KaraFun and SingSnap.
SingSnap Online Karaoke with Lyrics
SingSnap is an online karaoke community that offers access to thousands of online karaoke songs…but you need to create a free account. In addition to accessing quality karaoke songs, members can chat and sing with fellow members, compete in karaoke challenges and even record performances (by using your own webcam). SingSnap is also an app (and we get to karaoke apps with lyrics next!).
KaraFun Karaoke Songs Website
Unlike SingSnap, where you can karaoke sing online free, KaraFun is a paid membership site. They offer two-day passes and monthly subscriptions, but you do not need to buy karaoke downloads individually.
Instead, members can download the player to a computer, smartphone, tablet or television in order to access the KaraFun songs. Their database of karaoke lyric songs includes more than 35,000 titles – and all quality recordings are produced in-studio.
Pro Tip: Although not free, KaraFun is one of the places where you can legally download karaoke songs online. It's one of the advantages of the platform and one of the reasons it is regarded by many for how to get music for karaoke machine that is both quality and legal!
Karaoke Apps
There are several lyrics and karaoke apps where you can find hit karaoke songs. Like all apps, the range of karaoke lyric apps is vast; there are free and paid apps, simple and robust apps, karaoke online recording apps and game apps.
Top Karaoke Songs Apps
If you have a portable karaoke machine, then having karaoke music videos with lyrics on your mobile device is a must! There are dozens of lyrics karaoke songs apps, but we are featuring the most popular choices.
Karaoke Smule App
Far and away, the Karaoke by Smule app is a top pick of karaoke apps. There is a free version of Smule, but the upgraded (paid) VIP app unlocks loads of features, like unlimited songs, no ads, cool audio filters and a customizable profile. Smule has monthly and yearly subscriptions.
Yokee Karaoke App
The Yokee Karaoke App is a free app that is simple and easy to use. Looking for a free karaoke recorder online? With Yokee, you can sing, record and share your performances.
Pro Tip: Before starting your free online karaoke recording, check the details of what features the app needs to access and where (and by whom) the video will be viewed.
Karaoke Lyrics on CD+G Discs
Karaoke music lyrics CDs are called CD+G – which means that it is a CD with Graphics. The discs play the music simultaneously with video lyrics, so it is easy to sing along.
Where To Buy Karaoke Songs CDs
The best karaoke CDG discs can be found on Amazon. There you will find an array of options – from pop hits to all-time favorites. CDG discs also feature a specific genre (like Country Music) or top songs from an era (like the 1980s).
Should You Buy Karaoke CDs with Lyrics?
The one caveat to CD+G karaoke songs discs is that they can only be played by specific devices. The player must be able to display graphics – or the lyrics won't show up.
That said, some of the best home karaoke systems are installed with CD+G players. If you own a karaoke machine with a CD+G player as the sole way of playing music, you will need to purchase karaoke songs on CD+G discs.
However, many karaoke systems with screens (like this one!) and some karaoke machines with TV connectivity (like this one!) – allow singers to play CD+G discs or connect to handheld devices wirelessly. What we love about using a karaoke system like one of these is that you can collect your favorite songs on karaoke music lyrics CDs, but you can also venture out and try some of the apps or websites for karaoke online songs, too.
Pro Tip: Accessories – like disco balls, extra mics and microphones stands – are an excellent way to upgrade your karaoke experience! Get our top tips on Karaoke Accessories!
MP3 Karaoke Songs
It can be difficult to find good karaoke songs in MP3+G format – especially if you are looking for where to download free karaoke songs. If you own CD+G discs and know how to rip the disc tracks to your computer, you can get your CD+G downloaded karaoke songs onto your device.
There are a few websites, like Karaoke Version, where you can buy online karaoke MP3s. That said, you can also find Amazon karaoke songs in MP3 format. On Amazon, you can either to buy as albums (like the Disney karaoke series – which is great for Kid's Karaoke Machines) or stream songs via Amazon Music Unlimited (which is a subscription-based service, discounted with Amazon Prime – or try a free 30-Day Trial!).
Downloading Karaoke Songs for Free
While it is possible to find free downloadable karaoke songs, there is one big issue: Downloading (rather than just listening) is mostly illegal. For example, you can download karaoke songs from YouTube using an internet downloader (like 4K Video Downloader). However, it is likely that you are committing copyright infringement, which is against most video hosting terms of service.
Therefore, we do not recommend seeking out free karaoke downloads with lyrics. There are plenty of ways to obtain free online karaoke songs with lyrics without downloading them and breaking laws. Alternatively, just use our tips above for how to buy karaoke songs.
---
Go to our Best Karaoke System homepage to find top-rated Karaoke Machines for in-home use! Also read about Why You Should Buy a Karaoke Machine as a Gift!
PIN IT!