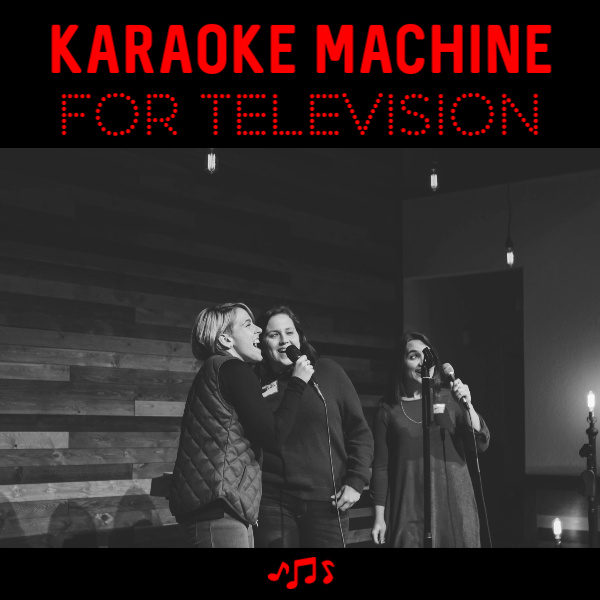 Karaoke Machine for TV
For many people, the best way to karaoke at home is with a karaoke machine that hooks up to TV. There are a couple of different ways that a karaoke home system can connect to a television – so it is important to determine which style is the best for your needs.
A home theater karaoke system can either connect wirelessly via Bluetooth or with wired components where the karaoke machine plugs into the TV. Some home karaoke systems are designed to connect to a television either way – Bluetooth or wire.
Pro Tip: While most Smart TVs have Bluetooth capabilities, older televisions may not. However, it is fairly simple to convert any TV to Bluetooth capable with an adapter the includes audio and optical output.
Some of the links on this site are Affiliate Links and if you use them to make a purchase, we may earn a small commission. For more information, read our Disclosure Policy.

---
Karaoke Machine that Connects to TV
This Singing Machine model is an affordable karaoke machine that easily connects to a television.
This karaoke system for TV has nearly all of the bells and whistles of an All-in-One karaoke system, except the screen. Instead, to be able to read the lyrics, RCA cables are attached to the karaoke machine to connect to TV.
The karaoke device for TV features a CD+G player (but can also wirelessly connect to devices for streaming capability). The karaoke machine for TV with lyrics also comes with a wired microphone and a built-in speaker. Additionally, this karaoke machine that hooks to TV also has a USB that can be used to record performances – and fun disco lights that can really get a party going!
Planning a Karaoke Themed Party? Use our tips for throwing the Best Karaoke Parties!
---
Home Karaoke Setup for Television
This highly-rated Karaoke Machine with Screen might also be the best karaoke machine for TV! It is a karaoke machine that plugs into TV with cables or wirelessly.
Versatility is one of the great features of this karaoke machine that hooks up to TV. It comes with a built in screen, but can also be connected to a television via Bluetooth or RCA inputs. The unit has fun lighting effects that synchronize to the music and two wired microphones. For music, the home karaoke system for TV can connect to handheld devices wirelessly, but there is also a CD+G player (which doubles as a DVD player, too!).
Use our Guide to Finding the Best Karaoke Songs for tips on where to buy karaoke music!
---
A Karaoke System for TV with Bluetooth Tech
This Rockville karaoke system for smart tv is essentially a high-powered PA system that produces quality sound, which is why it is amazing for karaoke. While we are featuring this as a Best Karaoke Machine for Smart TV, the system itself does not display lyrics. Rather than getting karaoke machine lyrics on TV, users can find songs on YouTube through the television (or on apps on handheld devices).
The top features of the Rockville karaoke machine for smart TV are that it has a powerful speaker for top sound quality, which is what is most important to some singers. Additionally, just as it is a karaoke machine you an connect to TV wireless, the system comes with two quality wireless microphones – and with a wireless karaoke microphone, the singer can really put on a show!
For fun karaoke effects, LED light strips are included in the package, which can be used to backlight your television.
Pro Tip: Not only is this a karaoke machine for Smart TV, but it can also be used as a computer karaoke machine, too. In fact, it can wirelessly connect to any lyric-displaying device!
Looking for other cordless mic options? Search for more top-rated Karaoke Machines with Wireless Microphones and use our tips for the best Karaoke Accessories!
---
Compatible TV Karaoke Machine with Wireless Mics
A top rated karaoke TV system, the JYX Karaoke Machines for TV are packed with fun features. Plus, it's easy to carry – making it one of the top portable karaoke machines, too.
The JYX is one of the karaoke machines that connect to TV wirelessly through a speedy Bluetooth connection, which allows you to connect to a television, computer, tablet or phone to play songs from YouTube or an app. However, the ease of TV connection is not the only reason we are including it in our list of Best Karaoke System for Smart TV.
Some of the best features of the JYX karaoke kit for TV are the multifunctional speaker (so you can use it for more than just karaoke!) and the ability to record performances.
The system for karaoke that connects to TV also comes with two wireless mics and a remote control. While the karaoke for home TV does not have a disco ball, it does have LED lights on the speaker.
Haven't found the Smart TV Karaoke System you were looking for? Search for more top-rated Karaoke Machines for Adults and the best options of Kids Karaoke Systems.
---
PIN IT!