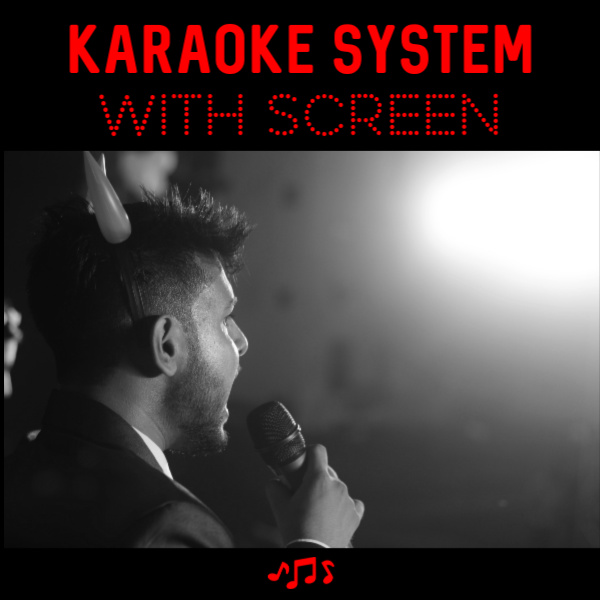 Karaoke Machine with Screen
An All-in-One Karaoke Machine with screen is a perfect set up that is ready out of the box – no hook ups required!
Setting up a karaoke system to work with a television (like these), tablet or Smartphone is impractical in many situations. Crooners who want a karaoke machine that doesn't require any additional devices should look at purchasing a karaoke machine with screen, CD+G player, microphone and speakers – all in one package.
That said, the best karaoke systems will also include additional features – including Bluetooth connectivity – so that singers have the option to utilize Karaoke Apps or stream YouTube for karaoke lyrics. We have rounded up the best complete karaoke systems for sale!
Pro Tip: All-in-One Karaoke systems are great gifts! Find out 5 reasons why you should buy a Karaoke Machine Gift!
Some of the links on this site are Affiliate Links and if you use them to make a purchase, we may earn a small commission. For more information, read our Disclosure Policy.

---
Karaoke Machine with Lights
The white Singing Machine with Disco Lights is an all-in-one karaoke system that ticks all the boxes!
While it might be small, the karaoke machine with monitor produces a big, quality sound – and is perfect for a Karaoke Party. The unit has a 7-inch LCD display monitor so that you can see the karaoke words on screen. Plus, these karaoke machines with screen also have fantastic disco LED lights.
Only one microphone is included with this karaoke machine screen option, but there are two mic jacks. (You can always purchase a second karaoke microphone separately – like this one – or use our Guide to Karaoke Accessories).
To play songs on this karaoke machine with screen for lyrics, there is a CD+G player (and it comes with a demo CD+G disc). That said, the robust karaoke music system with lyrics display can also can connect to other devices wirelessly and even to a TV via RCA output jacks.
---
Pro Tip: This karaoke with screen is a top pick – and you can find more options and styles for the best karaoke machine on our Best Karaoke Systems page.
All in One Karaoke Machine with Worlds on Screen
Considered by many to be the best karaoke machine with screen, the Karaoke USA product is loaded with the most desired features.
Rated by many as the best karaoke machine with lyrics display, the sleek design is built with a 7-inch screen that displays the lyrics from CD+G discs. It even comes with a ready-to-play disc of 300 karaoke songs so that you can start singing karaoke with words on screen right away.
Bear in mind, however, that most of the songs on the provided CD are children's songs. If you are buying a karaoke machine for adults to use, we recommend purchasing your favorite Karaoke CD collection instead. (Use our Guide to Finding Karaoke Songs for more tips!) Additionally, the enabled Bluetooth karaoke machine can just as easily connect to other devices wirelessly (however, when using a handheld device – like a phone or tablet – the words will not the screen on the machine).
The karaoke system with screen comes with two microphones, recording capabilities, a remote control and synchronized lights – everything you need!
---
Pro Tip: Looking for a kid-specific karaoke system? Check out our top picks of the Best Karaoke Machines for Kids.
Karaoke Machine with Lyrics
An affordable Karaoke USA model, this machine is more compact and slightly less flashy – but it is still a really good karaoke machine with CD player and screen!
For a budget system, there are several nice features of this karaoke with screen machine. Lyrics are displayed on a 4.3-inch screen, which may be a bit difficult to read. However, this home karaoke machine has outputs that allow the machine to connect to a TV to display the words, too.
The speakers are good – and even include light features. Songs can be played on CD+G discs (a 25-song disc is included) or via YouTube or Apps.
This affordable karaoke machine is great for other uses, too – like presentations or speeches. Use our tips for even more ways to use a karaoke machine!
---
Complete Karaoke System
A basic, yet complete, karaoke system, the Singing Machine Karaoke System is a fantastic buy at a good price. Plus, it's portable!
The compact karaoke system with lyrics comes with a 7-inch lyrics monitor, a microphone, cool light effects and voice changing fun. Songs can either be played via the CD+G player or from handheld devices.
---
Pedestal Karaoke Machine with Words
The Pedestal Singing Machine offers a convenient stand up setup with two tower speakers. It's easy to see why this professional karaoke machine with lyrics display is a top pick!
Words are displayed on the 7-inch screen, however, there is also a cradle on the pedestal that will hold a tablet or Smartphone. Songs can be played via the CD+G player, through the subscription based Singing Machine app or by connecting wirelessly to any other handheld device.
---
Pro Tip: Not sure if a karaoke machine with screen is the best karaoke machine for your needs? Find out more about the different kinds of karaoke machines – and the pros and cons of each style – on our Types of Karaoke Machines page.
PIN IT!