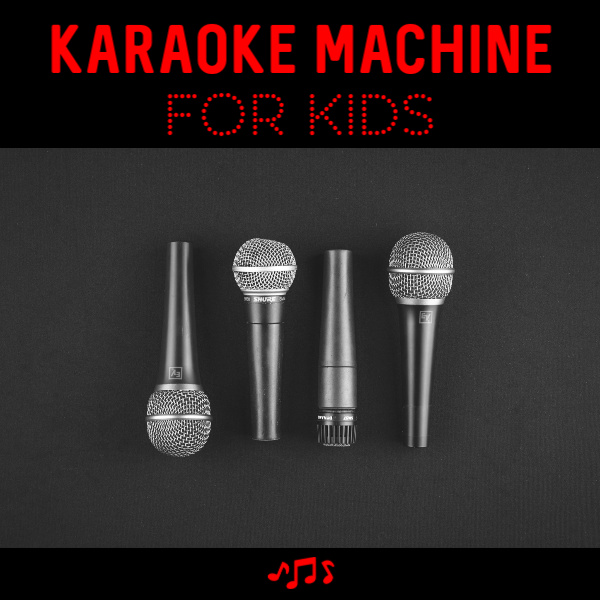 Best Karaoke Machine for Kids
While most kids love to sing – especially into a microphone – many of the karaoke systems are too complex for children. That is why there are specially designed karaoke systems for kids.
The best karaoke machines for kids are easy to use and are made of sturdy materials – but still include all the fun features that kids will love! We are highlighting the best karaoke systems for kids in a range of styles.
Pro Tip: Kids karaoke machines are perfect presents! Find out why you should by a Karaoke system as a gift!
Some of the links on this site are Affiliate Links and if you use them to make a purchase, we may earn a small commission. For more information, read our Disclosure Policy.

---
Karaoke Set for Kids
The simple Singsation Karaoke Singing Machine for Kids is perfect for young children. The highly rated Karaoke Set for Kids includes top features designed for young ones.
Compact and lightweight, the portable karaoke machine comes with a microphone (with cool echo effects), built-in speaker and multi-colored disco globe. To play music, the unit can be connected to a smartphone or table via Bluetooth or with an AUX cable. Karaoke songs can be streamed from YouTube or via apps. (For more tips about songs, use our guide to How To Find the Best Karaoke Songs.)
Designed to be portable, the karaoke set can easily travel – and is the best karaoke system for kids for road trips or slumber parties. The system runs on batteries, so it literally be taken anywhere!
---
Best Children's Karaoke Machine
When it comes to karaoke machines for children, the Singing Machine Kid' Pedestal system is packed with fun features!
Perfect for siblings, play friends, parent-child duets and karaoke parties, the Pedestal Karaoke Machine has two microphones and can be adjusted for height. Plus, with a recordable feature, the Pedestal Kids Karaoke System can make long-lasting memories.
For fun, the system is enabled with voice changing effects (like Robot, Chipmunk and Echo) that can entertain kids for hours. The top of the pedestal can also be removed from the stand to use at a table, bed, floor, car…or wherever else kids like to sing!
Music is streamed to the system via Bluetooth or line-in cable – and the stand even has device holder to secure a phone or table.
---
Karaoke System for Kids
This simple and easy to transport Singing Machine is an affordable kids' karaoke machine system that will provide hours of entertainment!
The Singing Machine Bluetooth karaoke system comes with good quality, built-in speakers and a wired microphone (with a second mic jack that can be used with an additionally purchased mic – find the best karaoke accessories here!). Songs are played on the system via Bluetooth connection or Line-In cables.
---
Kids Karaoke Machine with Sound Effects and Auto Voice Control
The Vtech Kids Star Karaoke Machine is one of the best kids karaoke machines for young children.
As one of the top karaoke machines for kids, the system is designed to entertain! Music can be streamed from a phone or other device via an audio cable – and the singer's voice is automatically turned down so that your little singer can sing into the mic.
Additionally, this child karaoke machine comes with built in original songs, a voice changer and fun games. Plus, the kid karaoke machine has a disco light.
---
Easy Karaoke Machine for Kids
With tons of exciting features, the Singing Machine Groove Mini Karaoke System is perfect for children who love to not only sing but perform!
Top features of the Groove Mini system are the fun voice effects and synchronized light show. The setup comes with one microphone (but there is a second mic jack for a second mic) and can be plugged in or operate on batteries.
There are multiple ways to play music through the machine (Bluetooth or USB) and it is also a karaoke machine that can connect to the TV via RCA cables.
---
White Karaoke Machine for Teens
Featuring all the bells and whistles, the Singing Machine is ideal for teens and young adults who want a real karaoke machine experience!
The stylishly white karaoke system is a huge hit with aspiring singers. The machine has a CD+G player for karaoke CDs, but can also connect to other devices via Bluetooth for more song options. Other features include the built-in speaker, recording capabilities, LED disco lights and cables that easily connect to a television.
In fact, this comes with so many top features that it would be a good option for a karaoke machine for adults, too.
---
Wireless Bluetooth Karaoke Microphone
There are many types of Karaoke systems and a simple, wireless mic karaoke machine for kids is one of the best!
Ideal for both boys and girls, aged 3 to 14 years old, the wireless microphone kids karaoke system is both affordable and fun!
The handheld karaoke machine for children is small but mighty – as it's packed with features. It has the ability to play music through Bluetooth or wired connections and has a long battery life. What makes it one of the best kids karaoke machines, however, is that it can make recordings, too!
Is this one not the style you are looking for? Check out other options on our Wireless Mic Karaoke Page.
---
Pro Tip: Karaoke Machines can be used for more than just singing! Find out other ways to use a Karaoke Machine! For more karaoke system options, go to our Best Karaoke Systems page.
PIN IT!