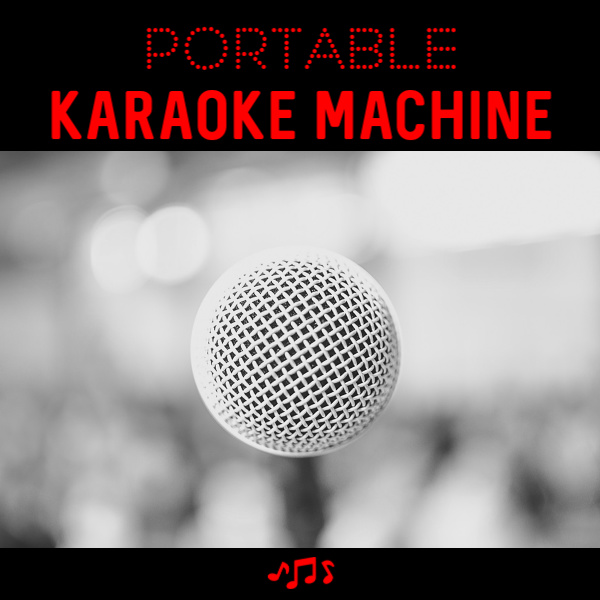 Portable Karaoke Machine
Portable karaoke systems are perfect for weddings, events and karaoke parties. Styles and sizes range, but every portable karaoke machine on our list is easy to move from place to place!
Some of the links on this site are Affiliate Links and if you use them to make a purchase, we may earn a small commission. For more information, read our Disclosure Policy.

---
Mini Karaoke Machine
The Singsation Portable Star Burst compact karaoke system is jam-packed with entertaining features – like a disco ball, sound controls and voice effects.
These light up portable karaoke machines have multiple lighting functions that can turn singing a song into a stage show. Combine the fun sound effects with the fact that there are two mics included and it is easy to see how this quality karaoke machine can provide hours of in home entertainment.
That said, one of the best features of the karaoke portable machine is that it has a rechargeable batter that lasts for up to 4 hours.
Like many of the best karaoke machines, the system uses Bluetooth connectivity, meaning that songs are streamed via devices (from YouTube or Karaoke Apps). The built-in handle of the portable karaoke player makes it easy to carry and it's lightweight at just over 5 pounds.
Use our Guide to Karaoke Songs for tips on how to find the best music!
---
Best Portable Karaoke Microphone
The BONAOK wireless Karaoke Microphone is a handheld karaoke machine with excellent sound quality. In fact, for many people, a robust mic is the best portable karaoke machine.
The portable microphone features a powerful speaker and vibrant lights. In addition to using it as a karaoke microphone, it can also record performances and acts as a speaker. Music is played from connected devices (via Bluetooth or included wire).
What makes this microphone a great karaoke machine portable option is that the rechargeable battery can charge quickly and lasts for about 4 hours. Plus the karaoke portable system comes with a travel case!
Karaoke machines are not just for singing! Find out more ways you can use your karaoke system!
---
Best Portable Karaoke System
The Ankuka multi-functional Karaoke PA system is a complete system…on the go. Because it is packed with extras, it really makes a great Karaoke Gift, too!
Equipped with technical controls for audio, a two-mic stand and disco lights, it is one of the best professional karaoke systems right out of the box. The high end karaoke machine features Bluetooth connectivity and a built-in rechargeable battery that will keep the party going for up to 5 hours. Easy to transport, the karaoke system portable machine has wheels and a trolley handle.
---
Wireless Karaoke Systems
The EARISE portable Bluetooth karaoke machine is dynamic. With an array of features, it easily ranks as one of the best portable karaoke machines you can buy.
The high-quality sound system features an 8-inch subwoofer and 1-inch tweeter for amazing sound. It is set up to use Bluetooth technology, but can also play music via USB flash, AUX input and MIC input. The machine is further enhanced with fun, flashing DJ lights – and it can easily be moved on the built-in wheels.
The wireless system ranked by some as the best portable karaoke machine with wireless microphone. The system comes with one wireless microphone and a remote control (but it can be enhanced with additional accessories for Karaoke!)
---
Portable Karaoke Sound System
The RHM portable karaoke speaker is small but mighty. It gets rave reviews as the best portable Bluetooth karaoke speaker system.
The high-end system includes 3 speakers (2 treble and 1 subwoofer) and two stylish wireless microphones – making it one of the best portable karaoke speakers on the market. The rechargeable batteries in this portable karaoke machine can last for up to an astounding 12 hours.
To play songs, the compact karaoke system easily connects via Bluetooth to phones, tablets and televisions. That said, the amazing karaoke machine can also be linked via AUX, USB, MicroSD.
---
Not sure if a portable karaoke system is the right style? Use our guide to the different Types of Karaoke Machines and find the one you are searching for!