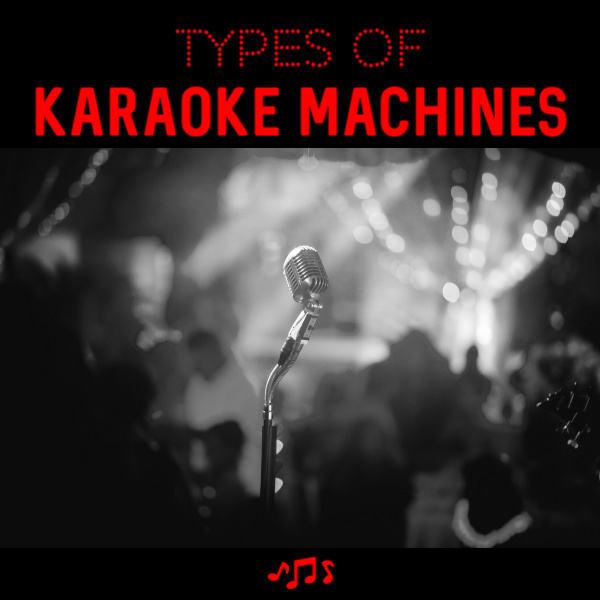 Before buying a singing machine, you need to understand the different types of Karaoke Systems. Styles range from professional karaoke machines with all the bells and whistles to simple microphones.
Types of Karaoke Systems
Sifting through the various models of karaoke systems for sale can be overwhelming. Between the technical jargon and the numerous styles, it is absolutely mind-boggling trying to sort out which type of karaoke system to purchase. No need to worry – we are here to help you find the best home karaoke machine!
We have categorized the most popular karaoke systems for home. This way, you can better choose a home karaoke system setup that best suits your expectations. Additionally, each category is linked to more information and the top karaoke machines for that style.
Pro Tip: How to set up a karaoke machine to play the audio alongside the lyrics is one of the biggest factors when choosing which system to purchase. Most singing machines are built with Bluetooth technology, but some come with wires and CD players, too.
Some of the links on this site are Affiliate Links and if you use them to make a purchase, we may earn a small commission. For more information, read our Disclosure Policy.

---
All-in-One Karaoke Machine with Screen
Hassle-free and ready to go, All-in-One Karaoke Machines are a breeze to use! Most All-in-One karaoke systems are equipped with a screen, microphone, CD+G player and speakers.
The best systems are Bluetooth enabled and can be connected to compatible devices (such as hand-held devices and televisions). Many All-in-One products are also able to record singing performances.
All-in-One machines are the best option for someone looking for a complete setup that doesn't require wrangling with wires or other components. That said, they can be upgraded with fun karaoke accessories, too!
On the other hand, in today's world of technology, a convenient All-in-One machine with a CD+G player might not be necessary. Singers who already have a favorite karaoke YouTube Channel or mobile karaoke apps might just need the type of karaoke machine that features a wireless microphone and a decent speaker system (which are covered in the following categories!).
For more information, go to our Karaoke Machine with Screen Page.
Pro Tip: A CD+G is a Compact Disc + Graphics, which has the ability to play instrumental music and display the sing-along words. Some machines use CD+G, while others play music through external devices. Find out more in our Guide to Karaoke Songs.
---
Karaoke Machine with TV Hook Up
A karaoke system that connects to a television is another popular option; it is basically an All-in-One, minus the screen. Instead, the machine is set up to easily connect to your already existing television, which is used to display the scrolling lyrics.
Connectivity can be via Bluetooth technology or with RCA cables, depending on the model.
Television Karaoke systems are fantastic for Karaoke Parties! In fact, many people prefer this type of machine, as it can be much easier to read the lyrics on a TV rather than on a small screen.
For more information, go to our TV Karaoke Machine Page.
---
Wireless Mic Singing Karaoke Machine
One of the types of karaoke machines that is highly sought after is is a karaoke system for home with wireless microphones. While not necessary for some, with a wireless karaoke microphone, singers can truly enhance their party performance.
The good news is that there are many karaoke home systems that come with wireless mics. There are wireless mic karaoke type systems for both adults and children.
When shopping for wireless mic karaoke types of machines, it is important to consider the sound quality of the mics.
Typically, a wireless microphone karaoke system is also a lot more affordable than many of the all-in-one models – which makes them a great to give as presents!
For more information, go to our Basic Wireless Mic Karaoke Machine Page.
---
Kids' Karaoke Machine
Karaoke systems for kids are designed to be easy to use. The best Kid Karaoke Machines also feature fun voice changing effects, a disco ball or light show, the ability to record and multiple microphones for either sibling or parent-child duets.
Most child karaoke systems utilize Bluetooth technology – so there is no worry about kids scratching or breaking CDs. The top kid karaoke type products are designed to securely hold hand-held devices or allow connectivity to a TV for lyrics.
For more information, go to our Karaoke Systems for Kids Page.
---
Basic Wireless Portable Karaoke System
Portable karaoke machines are some of the best karaoke systems for home! These basic karaoke systems provide the necessary karaoke components (a speaker and mic) that simply need to be connected to handheld devices (either with a wire or through Bluetooth technology).
One of the top features of portable basic karaoke machines is that they can be completely wireless – and some are even powered with rechargeable batteries.
Most in-home karaoke systems are portable, but how compact the machine is can vary widely. Sizes range from large All-in-One machines on wheels to a hand-held microphone complete with speaker.
Because of their portability, these karaoke machines can be used for more than just singing! We feature more fun ways to use karaoke machines here.
Features vary depending on the model – including everything from lighting to sound effects to included screens.
Find out more on our Portable Karaoke System Page.
---
Get detailed product information for the different types of karaoke systems for home on our top picks on our Best Karaoke Machine page!