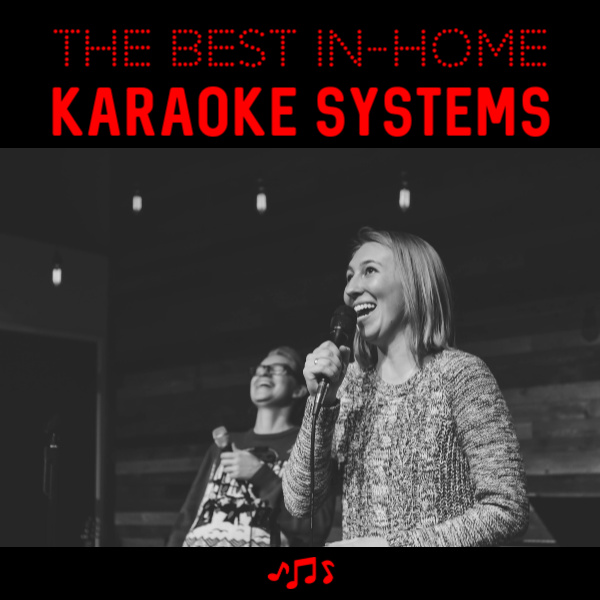 Best Karaoke Machine for In-Home Use
The best karaoke machines are products that deliver what they advertise. Features of the best home karaoke system are quality components, clear sound, value for money and ease of set up.
With so many different styles of singing machines, it can be tough choosing the right one. To help you determine which one is the best home karaoke machine, we have compiled a list of the most raved about machines.
Because there are numerous different types of Karaoke Systems for sale, we are featuring a top-rated karaoke machine for each category.
Some of the links on this site are Affiliate Links and if you use them to make a purchase, we may earn a small commission. For more information, read our Disclosure Policy.

---
Best Karaoke Machine for Home Use for Adults
Karaoke systems designed for adults and teenagers come packed with heaps of fantastic features. Although some machines can be used by younger kids, this is the best at home karaoke machine for grownups.
KaraoKing Machine
A modern home karaoke system that comes with loads of attractive features, the KaraoKing karaoke machine gets rave reviews.
So, why does it rank as the best karaoke machine for home use? The karaoke home system comes with two wireless microphones, a tablet holder and disco ball. It also comes on wheels with a handle, so it is portable, too – and perfect for a karaoke party anywhere!
The top rated karaoke machine is further enhanced with controlled effects and a master equalizer. There are four ways to connect the modern karaoke machine to music: USB, AUX, Bluetooth and FM Radio (but there is no CD+G player).
With all the bells and whistles, it solidly ranks as the best home karaoke machine for adults.
Pro Tip: The KaraoKing Machine has a sturdy construction. However, the home karaoke systems also comes with a lifetime warranty.
For more of the best karaoke systems for grownups, go to our Karaoke Machine for Adults Page!
---
Best Karaoke System with Screen
An All-in-One singing machine karaoke system is a perfect option for someone who doesn't want to fuss with hook ups or connecting other devices. (Yet, the very best All-in-One Karaoke Machines are also enabled for connectivity, just in case you want to use it that way.)
Karaoke USA Machine
The wireless Karaoke USA System is ready to use right out of the box. Compact and stylishly designed, it features a 7-inch screen, two microphones and synchronized light effects, making it perfect for parties. The karaoke set for home comes with a remote control (AAA batteries required) and a CD+G with 300 songs.
Additionally, what makes this system the best karaoke machine for teenagers is that it is enabled with Bluetooth technology so that it can be easily connected to wireless speakers. To connect to a TV, there are input/output connections and a built-in USB charger for Smartphones.
Pro Tip: The 300 songs on the included CD+G are mostly children's songs and nursery rhymes. While this is great for kids, most likely teens and adults will want more contemporary songs. We recommend purchasing a Karaoke CD+G to use with your machine, as the words only appear on the attached 7 inch color screen when using the CD player. Find out more about where to find karaoke songs and Shop for CDs!
Find more All-in-One options on our Karaoke System with Screen Page!
---
Best Home Karaoke System for TV
Karaoke machines that are designed to hook up to a TV are a fantastic option for large parties and family gatherings. The systems connect to the television for lyric displays – and feature a range of other features.
Singing Machine Karaoke Machine
Perfect to use in rooms that already have a TV, the Singing Machine karaoke system simply needs to be plugged in to the television. Top features of these karaoke systems for home are that it includes 54 LED Disco Lights for a lightshow and has Bluetooth compatibility for streaming songs. The enabled Bluetooth karaoke system also comes with one microphone (but the system is designed to add a second one!) and a CD+G player (but karaoke CDs not included).
That all said, one more reason it is the best home karaoke machine is that it comes at an incredibly affordable price.
Pro Tip: To turn this into a karaoke machine with two microphones, purchase an additional (and inexpensive) Dynamic Mic karaoke microphone. Find out about more must-have karaoke accessories!
Find more TV specific machines on our Karaoke System for TV Page!
---
Top Basic Home Karaoke Machine with Wireless Mic
Wireless microphone karaoke systems are ideal for larger functions and on-stage performances. That said, quality can vary drastically – so take that into account when making your buying decision about wireless mics!
JYX Karaoke Machine
Perfect for singers who already have a favorite karaoke app or YouTube channel, the JYX Karaoke Speaker System provides a professional sound. The wireless mic and speaker unit is easy to set up – simply turn on the speaker and the wireless Bluetooth karaoke microphone and they automatically connect.
The home karaoke system comes with two wireless microphones, which have a nice range and function on rechargeable batteries that last up to 8 hours. The speaker can be connected to a TV or computer via a wired cable, but it can also connect to hand-held devices via Bluetooth technology. Although it does not have a CD+G player, it does have a USB port that can host a USB flash drive.
Pro Tip: In addition to being used for singing, the JYX machine also works as a PA system. Find out more ways to use your karaoke machine – besides singing!
Find more wireless mic options on our Karaoke Machine with Wireless Microphone Page!
---
Kids' Best Karaoke System for Home
Some karaoke machines are a little too complicated for young children. Specifically designed kids' karaoke system are the perfect solution.
Kid's Pedestal Singing Machine
Perfect for kids who love to sing, the Pedestal Singing Machine is packed with fun, kid-friendly features. It ranks as the best karaoke player for home use for kids for a few reasons.
To start with the pedestal height can be adjusted and the top is detachable to use on a table, floor or lap. However, what kids will really enjoy is the voice-changing effects that will entertainingly alter their sound. Another fantastic feature of the kids' system karaoke machine is that it comes with two mics – so it can be used by siblings and friends – or for parent-child duets.
The system utilizes Bluetooth to play music (there is no CD+G player). That said, there is a device holder which can be used secure a phone or tablet.
Pro Tip: The Kid's Pedestal Machine is also able to record – and play back – performances. Find out other top reasons why karaoke systems are great gifts!
Find more child-appropriate options on our Kids' Karaoke Machine Page.
---
Best Portable Karaoke Machine
For singers who are on the move and want to take their karaoke system along, a portable karaoke machine is optimal. Lightweight and compact, with portable karaoke systems, it is possible to start a party anywhere!
Singsation Portable System
Easy to transport with a built-in handle, the Singsation portable karaoke machine may come in a small package, but it is loaded with features. In addition to the LED light display (which has 14 different functions), the unit is also enabled with voice and sound effects – which make it the best karaoke for home and on-the-go!
Music is delivered to the machine via Bluetooth or with a Line-In jack – so both YouTube channels and karaoke apps can be used with it. Additionally, the machine comes with a device holder, so you don't need to hold your phone to read the lyrics. And, a second microphone can be purchased so crooners can sing duets.
Pro Tip: For ultimate portability, the system can be powered by 8 AA batteries (not included) – but there is also an AC power plug.
Find more portable options on our Portable Karaoke Machine Page.
---
Final Thoughts on What is the Best Karaoke System for Home Use
Determining what is the best karaoke machine for home use depends on numerous factors – like who will be using it and features of the home karaoke machine.
First, you need to consider who will be using the in home use karaoke player. The best karaoke machine for adults is not likely also the best kid friendly karaoke machine.
Second, have a clear understanding of how the home karaoke set will be used. TV connecting home karaoke machines might not be the best karaoke device for teenagers who want to be on the go with a portable set up.
We share more information for the best karaoke system for home on our homepage!