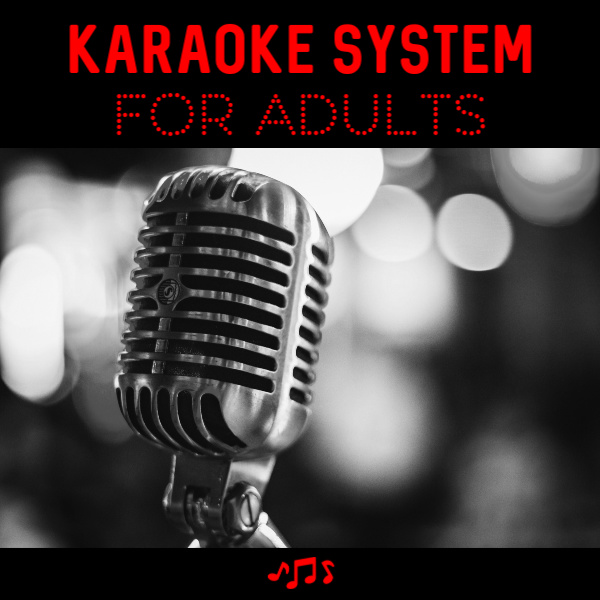 Best Karaoke Machine for Adults
The best karaoke systems for home use are quality products that are packed with heaps of entertaining features. Karaoke machines for adults come in a variety of styles – in a range of price points. While some of the systems can get quite technical, we think the best home karaoke system is one that can be used at parties, with friends and by the entire family.
Some of the links on this site are Affiliate Links and if you use them to make a purchase, we may earn a small commission. For more information, read our Disclosure Policy.

---
Karaoke Machine with Disco Lights
The Singsation Extra Large Karaoke Machine is a professional karaoke system with a multitude of attractive features – including a light show. It's a fantastic karaoke machine for adults, but is great for teenagers, too!
The digital karaoke system is a crowd pleaser and party starter with a disco party ball and speaker lighting! The unit comes with two wired microphones, a built-in speaker, 25 light effects, 10 sound effects and 60 voice effects. The wireless Bluetooth technology easily pairs with a smartphone or tablet to stream karaoke YouTube channels or apps, so there is no need to purchase CDs. And, because it is on wheels, it is easy to transport.
Throwing a karaoke party? Get our top tips for planning the best Karaoke Party!
---
Best Bluetooth Karaoke Machine
The KaraoKing Home Karaoke Bluetooth Speaker System is a best-rated karaoke machine. The professional karaoke machine for adults includes everything you need for a night of fun!
The Bluetooth karaoke system comes with two wireless microphones, a powerful speaker, colorful disco light and tablet holder. The adult karaoke machine can connect wirelessly to devices – or audio music can be played from a USB, TF card, radio or AUX input.
Music masters will love the enhanced equalizer options of the professional karaoke setup. However, one of the best features is that these adult karaoke machines can be used anywhere – it is a portable karaoke machine and even has a 6-hour battery that enables it to be used outdoors.
Pro Tip: Looking for other best rated karaoke machine wireless mic options? Check out more highly-rated Karaoke Systems with Wireless Microphones.
---
Wifi Karaoke Machine with Mic Stand
The Singsation Deluxe Karaoke Machine for Adults is a stand-up karaoke machine with a professional look.
With a mic stand and tablet holder, performers can keep their hands free – which is what makes this one of the best karaoke machines for adults! The adults' karaoke machine includes a wired microphone (with 10-foot cord), speakers, disco ball and a variety of sound effects. There is also a second input, which can be used for another microphone or a guitar.
No CDs are required to use the system – as it is Bluetooth enabled to stream music from smartphones and tablets.
Untether singers with a wireless mic! Wireless karaoke microphones can be purchased separately – along with heaps of other fun Karaoke Accessories!
---
Best Cheap Karaoke System
The economical Singing Machine home system is versatile – and ranks as one of the best cheap karaoke machines because it doesn't lack any fun karaoke features!
As the best cheap karaoke machine, this system has a tone of features! Karaoke hits can be played on the CD+G player, USB drive or via wireless connection to Bluetooth compatible devices. Furthermore, there are RCA output jacks that can be used to connect the karaoke system to a TV to display the lyrics. The Karaoke Machine for Adults comes with an efficient speaker and with 54 LED disco lights.
Pro Tip: While this system is the best adult karaoke machine at the best price, it is also suitable for teenagers! Find more top-rated karaoke setups for children on our Kids' Karaoke System page!
Not sure where to find karaoke music? Use our tips to find the Best Karaoke Songs!
---
Singtrix Party Bundle for the Best Professional Home Karaoke Setup
Passionate karaokers can take it to the next level with a professional karaoke player.
The Singtrix Portable Karaoke Machine was featured on Shark Tank and gets rave reviews for its innovation.
The easy to use studio controller panel is mounted on a pedestal – and features professional sound technology for producing vocal harmonies. Possibly the best karaoke player for home use, Singtrix takes your in home performance to a stage-worthy concert. Furthermore, there are preset sound effects to create the style that best suits the music…or your preferred genre.
The system also features compatible connectivity to play songs from smartphones and tablets, utilizing the huge database of songs online or on apps.
For sound, the system is connected to a powerful external speaker. It features a built-in subwoofer in order to produce a quality sound. The system comes with a microphone, but wireless mics can be purchased for the machine separately.
Karaoke systems are not just for singing! Find out other ways you can Use your Karaoke Machine!
---
Pro Tip: Karaoke machines make great gifts! Find out why you should buy a karaoke system as a present!
PIN IT!