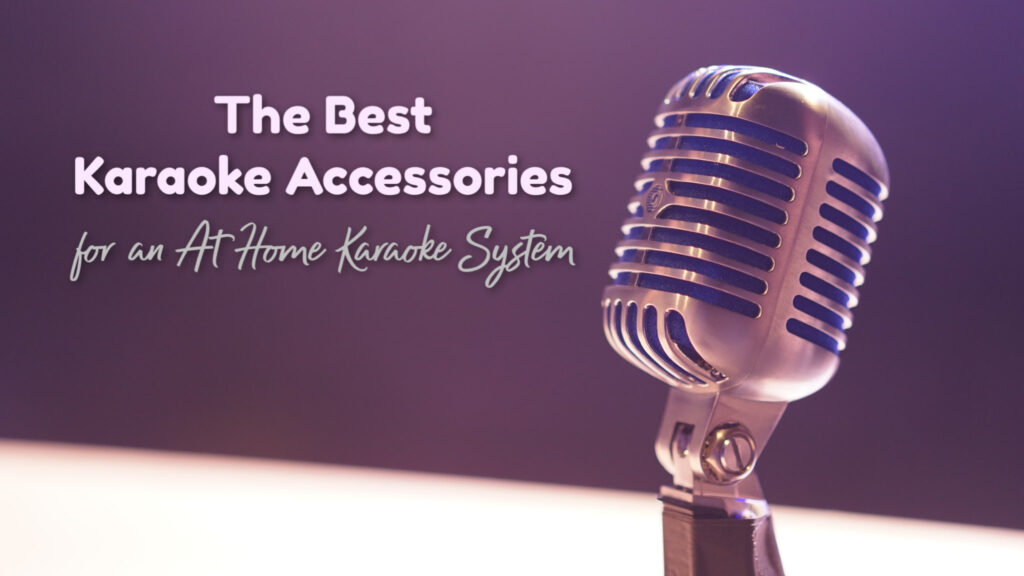 Some of the links on this site are Affiliate Links and if you use them to make a purchase, we may earn a small commission. For more information, read our Disclosure Policy.

Karaoke accessories can take your at-home Karaoke System from fun to phenomenally fun! We are featuring the absolute best karaoke machine accessories that can upgrade your user experience, enhance sound quality and boost performances with cool light features.
At-Home Karaoke System
There is a vastly wide range of karaoke machines – from a basic karaoke microphone (like this one!) to an All-in-One karaoke machine (like these!). Whether you purchased your karaoke machine based on bells and whistles, affordability or portability there are ways to accessorize it!
Pro Tip: If you are still searching for the best machine or buying a karaoke machine as a gift, use our guide to finding the Best Karaoke System!
Must-Have Karaoke Accessories
We have rounded up the top karaoke machine accessories so that you can improve your experience and give the most amazing karaoke performance! How you plan to use your machine will determine which accessories you need. Use our tips for Best Ways To Use Your Karaoke Machine!
#1 Extra Microphone for Karaoke Setup for Home
An extra mic is a must-have karaoke accessory! While most machines come with at least one microphone, having a back up is essential.
Furthermore, some karaoke machines come with a second mic jack (like this one!), but not a second microphone – in which case you will definitely want to purchase a second mic for your home karaoke setup!
Things to consider when purchasing an extra microphone are quality sound, durability, frequency range and cord length. This karaoke microphone on Amazon ticks all the boxes and costs less than $20 USD – making it an all-around best karaoke microphone.
#2 Wireless Mic for Home Karaoke Set
One of the absolute best karaoke accessories for your at home karaoke system is a wireless microphone. A coreless mic allows performers the freedom to move, dance and sing…without worry of getting tangled or exceeding the length of the cord.
There are numerous karaoke systems that come with wireless mics (like these!), but – again – it is ideal to always have a backup…just in case. Additionally, an upgraded wireless mic will likely provide a better sound quality output.
Quality wireless microphones can be hard to come by, which is why we recommend purchasing the best karaoke mics from a trusted brand. Bietrun makes easy to use, professional sounding microphones at an affordable cost – like these wireless mics.
#3 Mic Stand for your Home Karaoke Set
Whether you opt for a wired or wireless mic, a microphone stand is a key component to your karaoke set up. It can be difficult to find a quality karaoke machine with microphone stand already included. No worries though, a basic tripod mic stand is an inexpensive karaoke accessory that can elevate your karaoke experience.
Key features of a good mic stand are sturdiness and ease of adjustability. The affordable mic stand by Moukey gets rave reviews for both – and it is easy to break down and stow when it's not being used.
#4 Tablet Holder (iPhone Mount) for Best Karaoke Setup
A tablet holder is a device that is attached to a mic stand – and it's one of the most desirable karaoke accessories! With a universal phone and tablet mount, singers can perform using lyrics from an online source…without having to actually hold their device to read them.
Although there are numerous versions of the device mount for an at home karaoke setup, we recommend using the highly rated tablet holder made by Moukey. The slip-resistant mount is easy to install onto your mic stand and is compatible with almost all smartphones and tablets. Furthermore, once it is attached to the mic stand, each singer can adjust their phone for the best viewing angle.
#5 Karaoke Light Displays: Disco Ball and Lights
There is no better way to enhance your musical performance than with a light display – and a disco ball is the best karaoke accessory for the job! Many systems come with light effects (even most adult karaoke machines have fun light features), but we think the more, the better!
Karaoke disco balls vary in quality and features, but even a basic strobe light has settings that allow the lights to 'dance' to the music and enhance your at home karaoke system. This disco ball is sound activated and comes with a remote for even more features – and it costs less than $20 USD.
However, to really take it to the next level and create the best home karaoke setup, consider purchasing these laser lights that add a cool visual effect that can be time controlled, remote controlled or sound activated.
#6 Karaoke CDs with Lyrics
There are two kinds of karaoke machines; karaoke systems that connect to personal devices for music and lyrics and machines that have a CD+G player. If your karaoke system has a CD+G player, then you will need specific Karaoke CD+G discs for your songs and lyrics.
Find our more about the different Types of Karaoke Systems!
Singers who want a specific song can search for it on Amazon, but we also recommend purchasing a few CD+Gs that feature pop hits, kid songs and classic tunes for your karaoke machine for home. Use our guide to Where To Find the Best Karaoke Songs!
Party Tyme makes CD+Gs that cover several musical genres – including Super Hits, Country Hits and even a Mega 4-Pack Pop Party Pack.
For kids who like to sing, the Disney Collection is a favorite choice. And, if you are still looking for the perfect system, check out our list of the best karaoke machines for kids.
If you are planning a Karaoke Party, Billboard is a good bet for the most classic karaoke hits. We have more tips for Karaoke Parties!
#7 At Home Karaoke System Essentials
Don't forget the essentials! Some at home Karaoke Systems require accessories – like batteries or a longer extension cord so that you can use your machine in an ideal location (which is essential if you purchase a karaoke machine for TV!)
---
For more information about finding the perfect Karaoke machine, go to our Best Karaoke System homepage!
PIN IT!