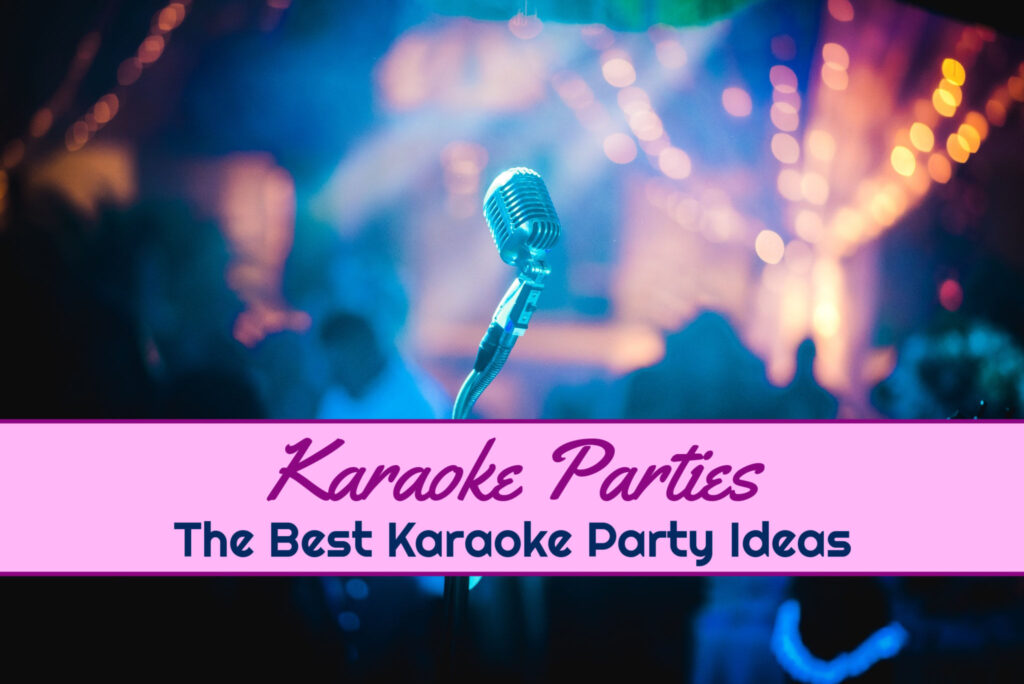 Some of the links on this site are Affiliate Links and if you use them to make a purchase, we may earn a small commission. For more information, read our Disclosure Policy.

Karaoke parties are a fun and fabulous way to celebrate any occasion! Perfect for people of all ages, a karaoke themed party encourages guests to sing, dance and entertain – all while creating amazing memories. However, throwing a karaoke house party does take some effort. We are sharing the top karaoke party ideas and tips so that you can let loose with your friends while you sing your heart out.
What are Karaoke Parties?
Before we jump into our tips for throwing a karaoke theme party and our best karaoke party ideas, let's take a moment to define what a karaoke party is. Simply put, a karaoke party is a festive get-together that puts the host and guests centerstage to sing their favorite tunes.
In this blog post, we are highlighting the best karaoke theme party ideas, as well as top tips for how to host a karaoke party. We cover absolutely everything you need to know about one of the Best Ways To Use your Karaoke Machine!
---
How To Plan the Best Karaoke Parties
If you are perplexed by how to have a karaoke party at home, you are not alone. Karaoke party planning is not as simple as getting a party karaoke machine (but it is an important step – and here you can find the Best Home Karaoke System!).
It takes a little organization to throw the best home karaoke party, but we are here to help you generate the best karaoke night ideas!
If you are planning a karaoke party, you can follow our step-by-step guide to ensure you have everything you need. Our tips for the best karaoke party themes are below.
Karaoke Party Machine
The first step in How To Have a Karaoke Party is to get a karaoke machine for the party. If you already own a karaoke sing-along system, then you are all set. However, you may want to invest in some of the top Karaoke Accessories to ensure you are party ready. An extra microphone and disco ball can ensure that your karaoke night party is a success!
If you do not have a karaoke machine for your party, then you need to decide if you want to buy a system or rent a karaoke machine for a party. There are party rental karaoke companies in nearly every city – but prices will range depending on what equipment you want and how long you rent it for. Systems generally start at around $200 USD.
While a karaoke party rental may be ideal for office parties, there are quality in-home machines that cost less than rentals.
Use our top tips to find the Best Home Karaoke System!
For example, an all-in-one karaoke party speaker and player – like this one!  – costs less than $200. A block party karaoke machine – like the one here! – costs a little more, but it is well worth the cost if you plan on using it more than once. And, if you are just planning a small gathering with a few friends, a karaoke party mic or other Portable Karaoke Machine might be all you need.
Karaoke Party Songs
Party karaoke songs are a necessity if you are going to host a karaoke party! Whether you need to purchase a Top Hits karaoke party CD – like this one! – or get top party karaoke songs online will depend on what kind of karaoke system you have.
If you are still unsure which style of karaoke machine is right for your party, take a look at the different Types of Karaoke Systems.
If your system has a CD+G player with a screen, then you can buy a karaoke party pack of CDs. We recommend these hit song CDs by Billboards.
However, if you have a machine that utilizes songs from a personal handheld device (like these karaoke machines for adults), then you can find good party karaoke songs online. The best karaoke party songs can also be purchased and downloaded as MP3s. There are various resources for finding songs – like YouTube and apps. We detail the best options for Where to Find Karaoke Songs!
Pro Tip: If you are debating between what kind of system to buy, we have buying guides that can help! Find our top tips for Karaoke with Screens and Karaoke for Television.
Karaoke Party Games
Once you source the best party karaoke songs, then you need to determine the organization of your party. There are many different ways to organize karaoke themes – and it will ultimately depend on the dynamics of your group. That said, organizing a karaoke party game is key. You don't want one person hogging the microphone all night or no one singing at all.
We are sharing a few of the top karaoke party game ideas to help get you started – but, in reality, the best karaoke game is one that is easy to administer and is fun for everyone!
Karaoke Party Sign In
Using a sign in sheet as your singing sign up sheet is one of the top karaoke party ideas for adults and children parties.
The easiest way to ensure all guests (who want to) have a turn at the microphone is to create a sign in sheet. On arrival, guests can sign up to sing; once all guests have had a chance to sign up, then guests who want a second (or third!) turn can sign in again. You can also use these song request slips to help organize the fun.
Karaoke Party Songs List
If your party has a specific theme (we are getting to themed party ideas in a minute!) and you want certain songs to be sung, then creating a concrete song list is one of the best karaoke ideas for party.
Make a list of all the karaoke songs that can be sung. Write them down on slips of paper and put them into a hat. Then take your guest list – write down the names of all of your guests on slips of paper and put them into a hat. To match up each singer to a song, pull a song and name from each hat and make an ordered list of who sings what!
Karaoke Challenges
A fun way to turn it up a notch at karaoke parties is to introduce challenges. With fun challenges, your karaoke theme party for adults and kids will be a big hit!
For example, task your guests with a Song and Artist Mash Up, where they sing popular songs in the voice of a different artist – like Love Shack in the voice of Frank Sinatra. To facilitate this challenge, put all the songs in one hat and the names of famous, recognizable artists in another, then match them up!
Another challenge that is possibly less difficult and more geared toward a kids' karaoke party, is to introduce an obstacle during the performance. For instance, challenge the singer to hop up and down during their entire performance or stand on one foot while singing their tune.
Pro Tip: If you decide to have active challenges, it is probably best to use a Wireless Mic Karaoke System for your party!
Karaoke Contest Ideas and Competitions
Television shows, like American Idol and The Voice, are fun singing competitions that can be recreated at karaoke parties. Create a panel of judges from your guests – or split up into two teams – and have a sing-off!
Pro Tip: One Karaoke party hack to keep things organized is to assign one guest as the MC to keep things running smoothly! As the host, the task can be a bit too much!
Karaoke Party Invite
Karaoke party invitations are a fun way to get guests excited about your event. Karaoke birthday party invitations – like these – let your guests know that there will be singing! For fun custom-made invites, you can use these amazing and customizable ticket-style invites that feature karaoke invitation wording.
However, if you want to make your own karaoke party flyer, you can use music-themed paper and come up with your own karaoke party invitation wording.
For more DIY karaoke party invitation ideas – and even free printable karaoke party invitations – use a site like Pinterest.
Karaoke Party Decorations
When it comes to karaoke party supplies, there are tons of ways to decorate your karaoke party room!
The best karaoke party decoration idea is to create a stage. There are dozens of ways to create an in-home DIY karaoke stage, but the easiest karaoke stage ideas are to implement a background that looks like a stage.
Other top karaoke decorations ideas are light effects. A curtain of lights can create a rocking atmosphere and a disco ball can really get the party going.
Hanging decorations – like these music notes or these disco balls – are more top karaoke party decoration ideas.
There are also specific karaoke birthday party decorations – for both kids and adults. In fact, there are complete sets of karaoke birthday party supplies – like this one – that include banners, plates, napkins, balloons and more! (We chat more about the specifics of hosting a karaoke birthday party at home in a bit.)
Karaoke Props
In addition to karaoke party decoration ideas, hosts might also consider having fun karaoke party props.
Some of the fun karaoke theme ideas for props are instruments (either real or blow up instruments) and dress up costumes that singers can don during their performance.
One of the best karaoke night party ideas for props are glow sticks. In fact, a simple set of glowsticks can really rev up the party.
If you are really aiming to take your party to the next level, one of the fun karaoke theme ideas is to also set up a photo booth with karaoke themed signs.
Karaoke Party Favors
If you want to have a karaoke party that people will remember, then go big on the party favors! Glow sticks and inflatable instruments are a big hit.
That said, our favorite karaoke prizes ideas are pretend microphones and rock star guitar trophies!
Karaoke Party Food
While so much of hosting a karaoke party revolves around music, it is important to also remember the food! Because there will likely be singing and dancing, it is important to keep your karaoke party food ideas simple. Finger foods (like chips and dips and cheese platters) and bar snacks (like mixed nuts and pretzels) are perfect for karaoke parties.
Karaoke party tips for sweet treats are microphone cake pops, musical cupcake toppers, music note cookies (make them yourself using these cookie cutters!
Adult Drinks for Karaoke Night Themes
For drinks, you can really rev it up by offering cocktails named after popular songs – like Purple Haze (a mixture of vodka, gin, rum and raspberry liqueur), Brass Monkey (a concoction of vodka, rum and OJ) and Black Velvet (a mix of Guinness and Champagne).
On the other hand, creating your own cocktail names is one of the fun at home karaoke party ideas! Create a cocktail called Liquid Courage or one named You're Up Next.
You could even get creative and relabel bottles of wine and beer that match your karaoke night theme.
---
Karaoke Party Ideas
Using karaoke for parties can make a mundane social gathering truly exceptional. Now that you know how to throw a karaoke party, we have a few tips for themes! While it is not necessary to have a specific reason to throw a bash, we are sharing the best karaoke theme party ideas.
Karaoke Birthday Party for Adults and Kids
A karaoke themed birthday party is a superb way to celebrate – for both kids and adults! Planning a karaoke birthday party is not much different than a regular birthday bash…except it's a lot more fun.
One of the top karaoke birthday party ideas for adults is to celebrate the specific year – or decade – that the guest of honor was born in. So, if the birthday girl was born in 1986, decorate in the style of the 80s, have guests wear outfits that fit the era and use top 1980s hit karaoke songs.
Other karaoke birthday party ideas include creating a stage, having stage props on hand and kicking it all off with fun karaoke games. Food and drinks can be named for famous singers or bands (like Elvis peanut butter and banana sandwich bites or Dean Martinis).
Pro Tip: Use our list of the best Karaoke System for Adults to find the best machine for your party!
Kids' Karaoke Party
A kids' karaoke birthday party is just as easy to plan! In fact, planning a karaoke party for kids is probably even easier than for adults. With a few decorations – like a stage backdrop, colorful musical notes, and a set of inflatable rock star band toys, a children's karaoke party will be a huge hit.
Some other kids' karaoke party ideas are microphone cupcakes or a guitar cake and easy finger foods (and don't forget the music-themed plates and table decor!). More karaoke party ideas for kids are fun party favors, like glow sticks and LED light party pieces.
Pro Tip: Start your search for the best Karaoke Machine for Kids.
Christmas Karaoke Party
There is nothing jollier than a karaoke Christmas party! To throw a Christmas party karaoke-style, you will want to set the tone with Christmassy decor and favorite holiday treats. Of course, you will also want to make sure you have the best Christmas party karaoke songs – like this CD+G disc or MP3 download set that features the best karaoke songs for Christmas party. A little liquid courage won't hurt – so have plenty of eggnog and mulled wine on offer, too!
If you want your Christmas carol karaoke party to be a sign-along, it is a good idea to print out the lyrics on Christmas Paper so that all guests can join in singing. Other Christmas karaoke party ideas are to provide Santa hats or ask guests to dress the part of Santa or wear Ugly Christmas Sweaters.
Are you and your friends crazed about Christmas all year long? One of the fun themes for karaoke night is to celebrate Christmas in July. Bust out the holiday decor and sing along to Christmas tunes in the middle of summer.
Pro Tip: Considering giving a karaoke machine as a Christmas gift? Find out 5 good reasons why you should Buy a Karaoke System for Christmas this year!
Halloween Karaoke Party
Take your Halloween party up a notch by making it an entertaining Karaoke Halloween party! Of course, you will want to compile a list of the best Halloween karaoke songs – like Thriller, Ghostbusters and Monster Mash.
However, karaoke party theme ideas for Halloween are not limited to just songs – costumes are essential!
Rather than just inviting guests to dress up, one of the top karaoke dress up ideas is to create a sub-theme for your Halloween karaoke party. For example, ask your guests to dress up as their favorite rock star or throw an era party – like the 90s; have your guests dress the part and belt out 1990s tunes all night.
Farewell Party Karaoke
If you are throwing a Going Away party for a friend or co-worker, a Farewell Karaoke Party is a great send off! Although it is not one of the most popular karaoke themed party ideas, what we love about a karaoke going away party is that guests can use their time with the microphone to tell favorite stories about the guest of honor and wish them well on their future journeys.
Karaoke Bachelorette Party
It's always fun celebrating the bride-to-be – but throwing a bachelorette party karaoke-style is epic. Coming up with a list of bachelorette party karaoke songs is only half the fun (but you can use this article if you're stuck on songs! The best karaoke bachelorette party ideas are ones that revolve around the future bride – so make sure the theme is all about her!
Pro Tip: If your group of guys like to sing, a karaoke bachelor party is fun, too! Just be sure to round up the top bachelor party karaoke songs from this list.
More Karaoke Party Ideas for Adults
Remember that when you throw a karaoke party, it's all about music and fun! Make sure your guests are enthusiastic about the theme. Rather than letting them wonder what to wear to a karaoke party, tell them to dress up in a certain way. Reveal your creative cocktail list ahead of time. And build up the excitement by letting your guests know that there are trophies to be won at your karaoke party at home! Most of all, keep karaoke parties fun and entertaining.
---
Karaoke Party To Do List
We have shared our best karaoke party ideas, but one of the keys for how to plan a karaoke party is to make a to-do list!
Come up with a Theme for Karaoke Party
Buy CD+G Discs or Download Karaoke Songs
Come up with Karaoke Game Ideas
Decide your Karaoke Invite Wording
Choose your Karaoke Decorations, Props and Prize Ideas
Make a Menu of Drinks and Food for Karaoke Party
Have Fun!
---
PIN IT!